Our 2019 live bookings suffered a bit of a setback when two live dates in March got pulled back by the organisers just before they were about to be officially confirmed, but we have a couple of dates booked starting in may and we're waiting for some more to be confirmed. Dates will be announced as we get closer.
With the "Poe", my Custom ESP Ltd
Viper-400 which was exclusively
used in this round of recording.
The recording goes in its own pace, living its own life, developing and forming into shape. There's a lot of experimenting going on, I've probably never tried out, worked and reworked my rhythm guitars to this degree before. Usually it works better for me to do things quick, just a very few takes, whatever comes out gets down because otherwise everything tends to get overdone very easily. But this round I felt that I really had the chance and the time, and felt that the material deserved (demanded?) it, so I just went for it and it turned our really, really well. I've also been experimenting a lot with arrangements on these songs, which I always do though, but maybe even a little bit more, and also with other instruments like percussion for instance. It'll be exciting to see what comes out of it.
Besides the drums the bass and rhythm guitars are also now recorded for the first two upcoming releases, two EPs that is, and I'm about to start recording the vocals and lead guitars for the first one, which will be titled "Between", and will feature my live rhythm section, Andreas "Drake" Mallander on fretless bass and Patrick Idman on drums.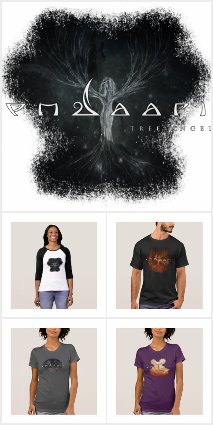 We'll be putting out shirts with alternative versions of the Tree Angel artwork at the official Saari Store at Zazzle. Every two weeks or so we'll put a new one out and there are already a couple out there. Note that all designs are available on shirts in different styles and colors to suit your fancy. There are also various geographically located Zazzle stores to make it easier for you to place your order and getting it delivered. So check it out at the
Saari Store - Tree Angel
.
See ya.
/ PM